While the trend may be to fly directly to the Hawaii's Outer Islands, I always like to visit Waikiki for its urban hustle and bustle, a Polynesia meets the Las Vegas Strip and Rodeo Drive all in one.
Oahu is also home to Pearl Harbor, several excellent museums and the Iolani Palace, former home of King Kalakaua Queen Liliuokalani. There is also the famous beach on Diamond Head and a great restaurant scene.
Best of all, there are some excellent hotels with terrific suites, which are the subject of this week's feature story.
1. Halekulani Hotel
2. Halepuna Waikiki by Halekulani
3. The Ritz-Carlton Residences Waikiki
4. Prince Waikiki
5. Trump International Hotel Waikiki
6. The Royal Hawaiian
7. Alohilani Resort Waikiki Beach
8. The Modern Honolulu
9. Espacio The Jewel of Waikiki
1. Halekulani Hotel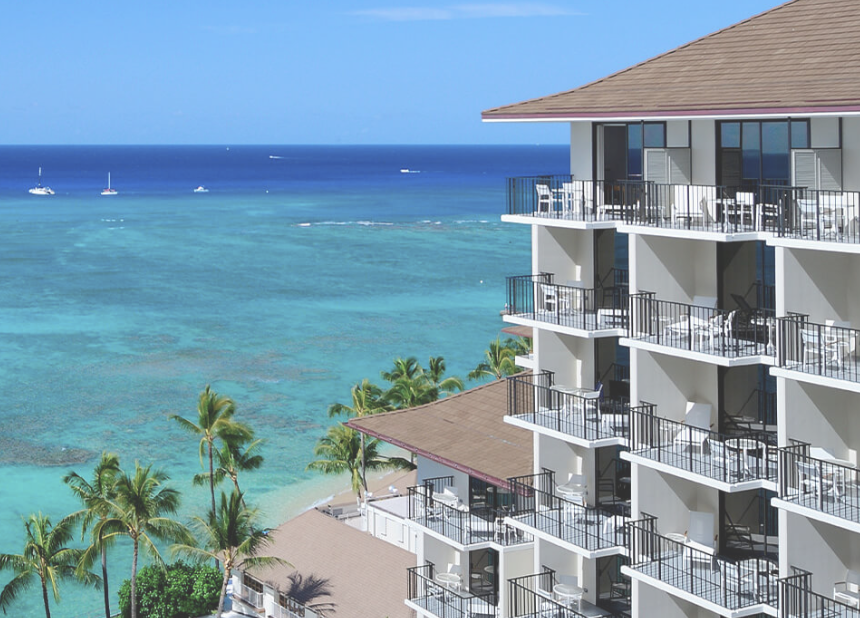 U.S. News reports on its top-rated Waikiki hotel, "Halekulani remains a traveler favorite for its über-luxurious accommodations and breathtaking views of Waikiki Beach and Diamond Head. Rooms are decorated in Halekulani's signature seven shades of white and feature complimentary internet access, flat-panel TVs and welcome fruit and chocolate. Recent visitors also laud the helpful service staff, attesting that employees here went above and beyond to ensure a pleasant stay. While you're here, make some time for the SpaHalekulani, which offers a long list of relaxing treatments inspired by Polynesian therapeutic rituals. Halekulani also houses three restaurants, and two bars, including the Lewers Lounge, which hosts nightly jazz performances."
The Telegraph continues, "Walk through the Halekulani and you'll suddenly feel more civilized. The breezy open-air lobby might not have the dramatic wow-factor of other properties sporting loftier ceilings, but it does have a gorgeous tropical centerpiece updated and arranged by the in-house florist. The immaculate electric green central lawn and garden grounds host intimate weddings year-round. The property serves as a quiet and blissful haven, a world away from the masses thronging Waikiki."
Royal Suite
The 2,478-sq.ft. Royal Suite includes nearly 700-sq.ft. additional lanai space with spectacular views of the Waikiki Beach and Diamond Head. The suite includes a covered wrap-around balcony; master bedroom suite with spa-styled bathroom and private balcony; second bed and bath suite with private balcony; spacious living room with grand piano; dining room to seat eight guests; powder room; and a fully equipped, in-suite kitchen.
More suites at The Halekulani.
2. Halepuna Waikiki by Halekulani
Ranked second in the state in Travel + Leisure's 2022 World's Best list, U.S. News says of Halepuna Waikiki by Halekulani, "Located one block inland from the center of Waikiki Beach, this boutique hotel houses rooms all decorated in a contemporary Hawaiian style. Dark woods, pale sage cushions and simple white sheets create an airy minimalistic decor that many travelers find refreshing. Guests are also especially fond of the private balconies, which offer views of the ocean or of Honolulu's glittering skyline. Aside from some complaints about street noise, overall guests love the locale, which grants easy access to both the beach and nearby shopping areas. When it comes to amenities, the hotel has plenty, including a fitness room, rooftop pool, complimentary exercise classes, daily complimentary wine mixers and a breakfast buffet in addition to an enviable location. What's more, travelers say that the customer service here is excellent, describing the staff as friendly and welcoming. Plus, visitors are granted access to the facilities housed within Halekulani (this hotel's sister property), located across the street."
Grand Ocean Suite
The 619-sq.ft. Grand Ocean Suites are located on the hotel's highest floor offering unobstructed views of the Pacific Ocean
More suites at Halepuna Waikiki.
3. The Ritz-Carlton Residences Waikiki
Forbes Travel Guide reports, "Tucked away from buzzing Waikiki, The Ritz-Carlton Residences, Waikiki Beach offers a tranquil and private oasis near Honolulu's Luxury Row, a strip that features the likes of Tiffany & Co., Gucci and Miu Miu. When you turn the corner in the eighth-floor lobby, you're struck with Pacific views and warm breezes in the open-air space. It's a picture-perfect glimpse of Hawaii. Then you'll notice a leather-wrapped front desk, where an attentive staff member stands ready to welcome you with an Aloha. But the vistas and luxe touches don't stop in the alfresco lobby — you'll find them in the rooms at the Ritz-Carlton's first Oahu hotel. The modern residential-style rooms and suites will feel like home: Most have fully equipped kitchens (boasting dishes, a knife set, refrigerators and dishwashers) and washing machines. But unlike home, your stay here comes with sterling Ritz-Carlton service and perks."
The Telegraph adds, "Nonchalant luxury and impeccable service are Ritz-Carlton specialties so it's hard to find fault. Visitors are whisked up to the eighth-floor sky lobby with its beautiful Oapala granite decor, and indoor-outdoor feel. New York architects Guerin Glass, who designed this 38-story tower, removed one wall of the lobby and BLT Market restaurant to give unimpeded views over the treetops to the ocean. The infinity pool is surrounded by frangipani trees and offers beautiful views towards the sea."
Four Bedroom Suite
The 2,988-sq.ft. Four Bedroom Suite is a two-floor duplex with five bathrooms, expansive dining, living and den areas for entertaining, with oak hardwood floors.
More suites at The Ritz-Carlton Residences Waikiki Beach.
4. Prince Waikiki
U.S. News writes, "The Prince Waikiki earns praise from visitors for its impeccably attentive service staff and cozy rooms. Travelers raved about the guest rooms, often describing them as spacious, eye-catching, and very comfortable. All accommodations at the Prince Waikiki feature LCD Smart TVs, wireless internet access and minifridges. And since this is an all-oceanfront hotel, every room offers ocean views from its large windows."
Conde Nast Traveler adds, "This is Hawaii's answer for the business traveler. No time to hang by the ocean, but provides the requirements very well. The Prince Waikiki does in-and-out very well. It seems like an ideal place to have a dinner meeting or quick drink by the pool after a conference."
Lanai Suite
The 1,042-sq.ft. Signature Lanai Suites are the only accommodations featuring a private rooftop balcony.
More suites at Prince Waikiki.
5. Trump International Hotel Waikiki
Rated 5-Stars, Forbes Travel Guide says, "Since Trump International Hotel Waikiki opened in 2009, it has been all about the details at this 462-room luxe property on the edge of Waikiki. The well-designed rooms and suites boast Italian marble bathrooms, deep soaking tubs, gourmet kitchen appliances by Sub-Zero and Wolf, rich leathers and rare exotic woods. The hotel offers its signature VIP service, Trump Attaché, an on-call personal assistant who can help with everything from stocking your kitchen with your favorite snacks to offering suggestions for restaurants and activities. You can hire an in-room personal chef or personal trainer. And you have all of the hotel's top-notch amenities — from the world-class spa to the sixth-floor infinity pool — at your disposal."
U.S. News writes, "The Trump International Hotel in central Waikiki isn't quite on the beach, but recent guests don't seem to mind. Visitors say that they found everything they expected of a five-star hotel at this Trump property, including excellent customer service. Suites are decorated in neutral decor and come outfitted with Italian marble bathrooms, flat-screen TVs and complimentary Wi-Fi access."
Ocean Penthouse Two-Bedroom Suite
The 2,204-sq.ft. Ocean Penthouse Suite features sleek furnishings with dark woods and stunning ocean views. Floor-to-ceiling windows and three spacious lanais offer sunset views. There's even a wooden Hinoki Furo tub.
More suites at Trump International Hotel Waikiki.
6. The Royal Hawaiian
The Telegraph says, "The pink theme can be a bit overwhelming, and, despite its place right on the beach, the Royal Hawaiian's dark lobby with vaulted archways and many original rooms have an unusual focal point: a leafy central corridor instead of the sea. Constructed by maritime company Matson in 1927, it's said that once travelers reached Hawaii by ship, they'd had their fill of ocean views. Though there are some historic rooms that face the water, a newer 17-story room tower, also rose-rimed, offers elevated views."
U.S. News adds, "Recognizing The Royal Hawaiian isn't difficult at all. This bubblegum pink property has dominated the Waikiki shoreline for almost a century. Guest rooms here feature splashes of bright, bold patterns and feature amenities like flat-screen TVs, high-speed internet access and in-room coffee makers. Overall, previous guests enjoyed staying at this hotel. Although you will have to rush to get a seat by the pool, you can always take advantage of how close The Royal Hawaiian is to the best stretches of Waikiki's midway sands instead. The expansive "property also houses the full-service Abhasa Spa, while fresh seafood can be enjoyed in style at the Azure Restaurant.
Royal Hawaiian Suite
1,774-sq.ft. Royal Hawaiian Suite offers spectacular views of Waikiki Beach. There is a large living room that's perfect for gatherings, a separate dining area with a wet bar, two bedrooms with king beds, and two full-size bathrooms. It's ideal for family gatherings and business meetings.
More suites at The Royal Hawaiian.
7. Alohilani Resort Waikiki Beach
U.S. News writes, "Opened in 2018, Alohilani Resort Waikiki Beach boasts a sleek and simple design, allowing its guests to focus on the natural beauty of Honolulu. About 60 steps from the iconic Waikiki Beach, this resort welcomes sun-seekers and provides a concierge desk that can arrange everything from sailing to snorkeling…Accommodations have views of the city, the mountain or the water, and all of them boast minifridges, Keurig coffee makers and flat-screen TVs. The hotel's rooftop infinity pool impressed recent guests, but many past visitors complained that the area can get a little rowdy and crowded, either with too many partygoers or children in the pool depending on the day. In addition to the rooftop, both kids and parents were delighted by the Alohilani Resort Waikiki Beach's 280,000-gallon lobby Oceanarium, a massive aquarium."
Beachside Suite
The 700-sq.ft. one-bedroom Beachside Suites offer views of the Pacific Ocean and Waikiki Beach. Extended double balconies provide indoor-outdoor living spaces. The suites have a separate living space that incorporates custom furnishings, natural materials, an airy tone-on-tone color palette and a 65" HDTV.
More suites at the Alohilani Resort Waikiki Beach.
8. The Modern Honolulu
The Telegraph says, "A rare independent property in Waikiki, everything from the quirky lobby features to the unpolished Brazilian hardwood deck enclosing the property's main pool and the hotel's signature scent, feels unique and not mass-produced. A boutique sells locally designed swimwear, hipster bags and luggage, and quirky home décor (metal sculptures shaped like balloon animals)."
U.S. News adds, "Located within walking distance of the Ala Moana Center shopping mecca and the powdery sands of Waikiki Beach, The Modern Honolulu combines style and swagger with the surfer vibe that many visitors expect from Hawaii's capital. The boutique hotel's many guest rooms include flat-screen TVs and glass-encased showers, plus complimentary Wi-Fi. Travelers say their stays here couldn't have been better, attributing their experiences to the hotel's excellent customer service, location and top-notch amenities, especially the pools. Guests can lounge by two pools – Sunrise is for everyone, and Sunset is adults-only – or indulge at The Grove, a restaurant and bar with a romantic outdoor atmosphere with views of the pool."
Penthouse Suite
The 1,500-sq.ft. Penthouse Suite features floor-to-ceiling windows and ocean views. There is a spacious master bedroom and bathroom, formal dining room with seating for eight, plus a landscaped terrace.
More suites at The Modern Honolulu.
9. Espacio The Jewel of Waikiki
Forbes Travel Guide says, "Waikiki has long been an iconic destination, given its surfing hot spots, celebrated beach backdrops and history as a playground for Hawaiian royalty. Tucked in this coveted neighborhood sits ESPACIO The Jewel of Waikiki, an ultra-exclusive, residential-style boutique hotel with only nine suites for visitors to make the best of Waikiki's city and beach life while ensconced in meticulously curated luxury. You won't just get all the comforts of home, but unrivaled privacy of an entire floor to yourself, along with an expansive oceanfront balcony. Enter the suite through a discreet elevator, and an always-at-the-ready butler who arrives through a separate service elevator. The suites come with two or three bedrooms and offer impeccable contemporary design and touches of cross-world motifs that include chandeliers with Moroccan metalwork and hand-knit Persian carpets. The fully equipped chef's kitchens feature Italian marble countertops and all the latest appliances. The suites' panoramic and spacious ocean-view balconies have their own Jacuzzis and daybeds, while bathrooms come with a deep-soaking tub and separate elegant shower."
Penthouse Suite
The 2,800-sq.ft. Penthouse Suite is on the hotel's top floor. There is a Jacuzzi on the expansive private balcony where you can hear the breaking waves.
More suites at Espacio Jewel of Waikiki.