After looking at some of the Southern Hemisphere's best wine resorts, this time we'll explore the best wine resorts in Europe, premiere winery estates to enjoy when traveling through the continent. The appeal of each is their stunning locations, outstanding views, and exceptional cuisine to go with some world-renowned wines. Add to these attractions restful rooms, pampering spas, and epic area excursions, and all these make for an ideal getaway, whether you are a true oenophile or not. Enjoy!
1. Royal Champagne Hotel & Spa – Champillon, France
2. Six Senses Douro Valley – Lamego, Portugal
3. Hotel Marqués de Riscal – Elciego, Spain
4. Rosewood Castiglion del Bosco – Montalcino, Italy
5. Meneghetti Wine Hotel & Winery – Istria, Croatia
6. LOISIUM Wine & Spa – Langenois, Austria
7. Winery Hotel 1870 – Santorini, Greece
8. Lympstone Manor – Devon, England
9. Burg Schwartzenstein – Geisenheim, Germany
1. Royal Champagne Hotel & Spa – Champillon, France
Perhaps the best way to toast the arrival of 2023 is with Royal Champagne, one of our most popular retreats in France. This retreat has immense appeal in the heart of the Champagne wine region, only 64 miles from Paris' CDG airport.
Debuting in 2018, Royal Champagne is a historic coaching inn combined with a modernist wing, surrounded by acres and acres of vineyards along the hills of Épernay. Just 48 rooms and suites offer guests an intimate experience. Adding to the enjoyment is a sumptuous 16,000-square-foot spa with a sauna, hammam, gym, yoga studio, and two temperature-controlled swimming pools.
Its Michelin-starred formal Restaurant Le Royal, celebrates the local agricultural bounty. The other bounty of the region – the many Champagne houses – is also celebrated and enjoyed with a variety of packages offered by the hotel, including a champagne chauffeur service so guests can explore and sample responsibly.
2. Six Senses Douro Valley – Lamego, Portugal
An indulgent retreat that is a series of contrasts: contemporary rooms and suites in a 19th-century manor house, Six Senses Douro Valley is infused with the Six Senses brand's wellness philosophy while reveling in its ideal setting in the renowned Douro Valley wine region. 
Guests can relax, refresh, and relish the many pleasures of the estate and its lush natural surroundings. With spectacular views of terraced vineyards and the meandering Douro River, guests can also enjoy a variety of flavors like farm-to-table cuisine from local farms and fisheries and from the estate's organic gardens at The Vale de Abraão Restaurant with its open chef's kitchen. 
Or they can rejuvenate in the well-equipped spa, gym, and yoga/Pilates pavilion. In addition to traditional massages, spa aficionados can enjoy sound and color therapy treatments, an indoor heated pool with water jets, or the outdoor pool. Relax in the 71 stylish rooms and suites celebrating the great outdoors with winding wood pathways through a secret garden, rest-easy gazebos, and acres of re-forested land. Two pool villas are ideal for larger families or those craving privacy. While the hotel itself does not have its own vineyard, its Wine Library celebrates the very best of the region, including some of Portugal's famed fortified wines.
3. Hotel Marqués de Riscal – Elciego, Spain
Not just a vineyard, or a wine-themed resort, this is a virtual city of wine, with an avant-garde masterpiece hotel designed by Frank Gehry at its heart. Gehry was also responsible for designing the Guggenheim Museum, an hour and a half away in Bilbao. The design of this hotel echoes the joyous flight of birds celebrating the pleasures of this incredible location. 
Visitors here will find the Rioja wine region nestled up against the wondrous gastronomy of Basque country, which boasts more Michelin-starred restaurants per capita than almost anywhere else in the world (Kyoto wins that distinction). Coupled with the amazing history and art of charming medieval towns, and some of the best surf in Europe, Rioja is well worth a visit, even if tourists aren't into wine. For oenophiles, the old winery here has been producing fresh, nuanced reds since 1860, along with some rosés and a dry white.
Part of Marriott's Luxury Collection brand, the Hotel Marqués de Riscal opened in 2006 to rave reviews. Here guests can indulge their senses in 43 rooms and suites and four dining outlets, including a Michelin-starred restaurant and an outdoor venue featuring traditional Riojan barbecue. There is a therapeutic vinotherapy spa by Caudalie and an abundance of activities centered around wine – including horseback rides through the vineyards.
4. Rosewood Castiglion del Bosco – Montalcino, Italy
Castiglion del Bosco, a magnificent retreat managed by Rosewood hotels, is situated in one of the oldest and best-known wine estates in Tuscany, which produces an exceptional Brunello. After all, the estate features 153 acres of vineyards started 800 years ago, planted exclusively with Sangiovese grapes.
Guests visiting in September can even take part in the annual harvest. Most of the 42 suites come with private terraces that overlook the vineyards. For a unique treat, choose one of the 11 restored 17th and 18th-century farmhouses nestled in the vineyards. They come with private pools, patios, and jacuzzis. But the Castiglion's immense appeal doesn't just stop there. With its cooking school, the Michelin-starred Ristorante Campo del Drago and the trattoria Osteria la Canonica serve up all the rich and wonderful flavors of traditional and contemporary Tuscan cuisine. 
Beyond the gates, all the natural and cultural treasures of UNESCO-listed Val d'Orcia and nearby Siena, such as truffle hunting, sampling excellent Tuscan reds, or exploring the countryside's filming locations, beckon. Within the gates, on-site yoga and meditation in the gardens, forest bathing, landscape painting, or stargazing with the resident astronomer will keep guests occupied. But there's even more, to enjoy here: Italy's only private golf club, reserved exclusively for members and resident guests, is on site. The 18-hole course is the only Continental European course designed by Tom Weiskopf.
5. Meneghetti Wine Hotel & Winery – Istria, Croatia
There's much to love about Istria, the heart-shaped peninsula in the Adriatic, replete with rolling hills and fertile plains perfect for wine production. Add to that acclaimed traditional Istrian gastronomy featuring fresh seafood, milk truffles – an Istrian delicacy, wild asparagus, and top-rated olive oils, and visitors here will have a wealth of treasures to enjoy. 
The kitchen at Meneghetti Wine Hotel & Winery sources as much as possible from within a radius of 50 km from the hotel in partnership with a host of suppliers for fresh organic vegetables, homemade pastas, and award-winning cheeses and yogurts. Set within 12 acres of vineyards and olive groves, the wines and olive oils that infuse the seasonal flavors at its Restaurant are a given here. 
The hotel features a total of 40 rooms and suites, villas, and residences and is one of the loveliest estates on the Adriatic coast. Although tucked away from the shoreline, Meneghetti is proof that treasures are often found off the well-beaten path. Guests seeking the shoreline won't be disappointed, though, as the private beach (with beach bar) overlooking Brijuni island is accessed from the estate by a scenic route winding through olive groves, vineyards, and woods. Guests preferring to stay close to their rooms can relax in luxury in the indoor pool or the two outdoor pools with sun decks.
6. LOISIUM Wine & Spa – Langenois, Austria
Part of a new brand, LOISIUM Langenois is one of a series of four (and growing) wine retreats in Austria and France. This one is set within the Kamptal area, one of Austria's most popular wine regions, with Langenlois its largest wine town. It is close to the UNESCO-protected Wachau region, 50 minutes from Vienna, near the Danube, known for its rolling hills, vineyards, and fortresses. 
The area's long growing season results in exceptionally clear, light-bodied, and mineral Grüner Veltliner and Riesling, which are frequently bottled with CO2 for an added sparkle. The hotel and its current vineyard and winery were built above a historic subterranean wine vault system, which includes 900-year-old stone passages. The angular design of the Hotel and its 112 rooms is aligned seamlessly with the surrounding vineyard rows.
Each of the contemporary rooms features views of the vineyards through the floor-to-ceiling windows, and it's just a 5-minute walk to the charming village and easy proximity to area wineries. The heated outdoor pool is open year-long and, with a sophisticated restaurant, bar, and lounge and an indulgent spa featuring wine-infused treatments, this new hotel has so much to offer.
7. Winery Hotel 1870 – Santorini, Greece
Now there's even more to love on sexy Santorini. The new, all-suite Winery Hotel 1870, located right in the heart of picturesque Fira, intertwines local history and culture with modern luxury and hospitality. The building was once a winery, operating since 1870. Its conversion into a hotel incorporates antique fixtures such as massive oak barrels and century-old cellar gates within rooms decorated in contemporary blue and white Cycladic style. 
Each room's décor is unique, and old stone walls are naturally imbued with grape must, creating colors and textures reminiscent of classic oil paintings. The King's Suite, a loft, has a barrel converted to a wine bar and comes with an indoor plunge pool. Unlike the other properties on our list, there is no restaurant on-site, just a pool bar, although 1870 offers room service breakfast on request. Since the hotel is situated in the center of town with a taverna just outside and local food shops and restaurants within easy walking distance, guests get to enjoy living like a local, as each of the 11 rooms and suites comes with a dining area, fridge, glasses, dishes, utensils, and dishwasher.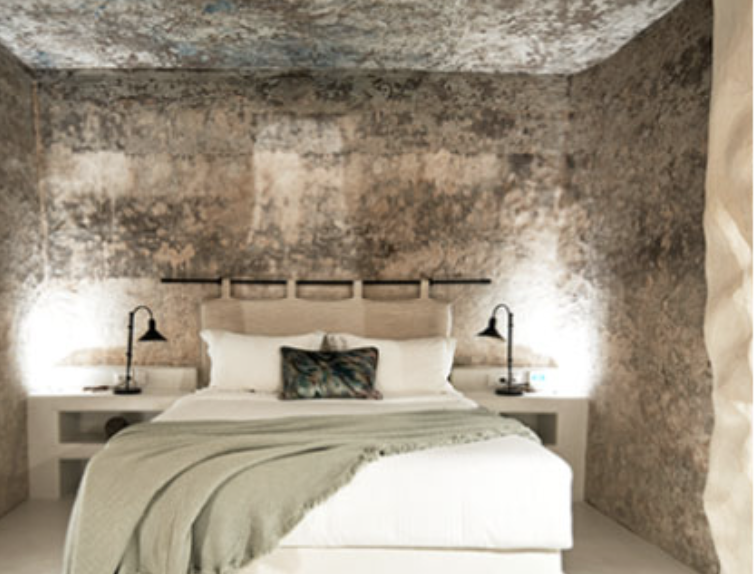 The family that owns the hotel are locals and offer spot-on advice on area dining or securing horses for riding excursions. Their boat company arranges touring, diving, snorkeling, and windsurfing journeys. Guests can also discover more about the island's wine heritage at their Wine Museum, located deep within a cave system.
8. Lympstone Manor – Devon, England
Although one doesn't automatically think of England as a hotspot for viniculture, perhaps the only positive spin on climate change is the re-emergence of the destination as a producer of libations other than beers and hard liquors. Take Lympstone Manor, a quintessential Georgian estate, creatively and comprehensively transformed into a contemporary country house hotel by enterprising chef Michael Caines, MBE, one of the UK's most celebrated chefs whose personal passions extend beyond his acclaimed Michelin-starred cuisine.
Overlooking the mouth of the Exe estuary in the heart of Devon, his hotel's 21 luxurious rooms and suites rest on 28 acres of gardens and parklands, including its very own vineyard set amidst the beauty of Devon. In addition to the opulent rooms, there are also luxury "shepherd huts" outfitted with fire features and outdoor soaking tubs, allowing guests to feel at one with nature. 
Surrounding areas provide additional natural significance and interest: the estuary alongside the estate is a winter haven for migrating birds within a diverse coastal habitat and, not far away in Exmouth, begins the 95 miles of England's acclaimed Jurassic Coast. This area is the only place on earth that has revealed the natural history of this planet for 185 million years and can be discovered on foot, by car, or by boat.
9. Burg Schwartzenstein – Geisenheim, Germany
A historic castle, a Relais & Chateaux hotel, two gourmet restaurants, and family vineyards combine to form a haven of rest and hospitality overlooking the exquisite vistas of the Rhine Valley. A visit to Burg Schwartzenstein will stir the inner royal tucked in the soul of any bon vivant. The sensitively restored castle dates back over 150 years, plus there are additional new hotel residences. All accommodations feature plush furnishings and finishes, creating a sophisticated atmosphere. 
Gourmands will delight in the exquisite cuisine served in the castle's Burg Restaurant and the MÜLLERS auf der Burg venue, situated within the heart of the vineyards. Both offer cooking classes so motivated guests can devise and execute their own menu, pair it with appropriate wines, and recreate culinary magic back home. 
The estate's winery produces an exceptional Riesling. However, staff will be happy to arrange tours to neighboring Rheingau producers of Kabinett, Spätlese, and Erste Lage vintages to sample the other wines for which this region is famous.
VIP Contact
Contact Jack Bloch of JB's World Travel Consultants at jackb@jbsworld.com.