We love planes here – private planes in particular, but we also love trains, and the Royal Scotsman is a special train, not only because we are half Scottish, but we love trains. For this issue we asked our friends at SmartFlyer to share with us their review of Belmond's luxury journey on rails, a perfect way to see beautiful Scotland for the first time, to return, or for a special celebration. For large groups you can charter the entire train.
1. Overview
2. Itineraries
3. Accommodations
Overview
Riding the nine-carriage Royal Scotsman, A Belmond Train is one of SmartFlyer's favorite ways to traverse the Scottish countryside. This luxury sleeper train's signature mahogany-clad cars marry Edwardian elegance with the comforts of a modern country house. Its cabins feature a range of sleeping arrangements, from singles to doubles to twins featuring ceiling fans and controlled heating. They also have interconnecting options for groups looking for a full-suite experience. No matter which cabins you select with your travel advisor, each features plush bedding, soft Scottish wools, and tartans.
Most of all expect a memorable dining experience as the Royal Scotsman ushers you through the Highlands. Head Chef Mark Tamburrini has worked in some of the UK's finest restaurants. Under Steven Granton and Jim Kerr at the Royal Exchange Square, Glasgow, Mark's passion later led him into the kitchens of Michelin-starred L'Escargot in Soho, London. Whether it's fresh Scottish produce or tasting handcrafted malt whiskies, their restaurant car menu satisfies a wide range of tastes. With seafood and dairy as key staples to the local diet, this is one of the most unique places to dine on dishes like wild salmon or traditionally made kedgeree. Try their savory pigeon salad for something truly unique.
And how about a spa on rails? In collaboration with Bamford Haybarn Spa, guests are invited to unwind in two treatment rooms crafted to faithfully replicate the iconic countryside vibes at Haybarn Spa at Bamford's Daylesford farm. When asked about her design philosophy, founder Carole Bamford says, "We make all our products for the Haybarn Spa at Daylesford organic farm in the Cotswolds, using natural fragrances and ingredients. I love the idea that as you travel through the beautiful Scottish countryside, you feel a part of the surroundings while enjoying a treatment using our organic botanical products."
Most of all, the train is a vehicle to bring you to great adventures. Vist private loch Drumintoul Loch and enjoy a delicious picnic using produce from the Rothiemurchus estate. Home to some of the largest expanses of dark skies in Europe, the Scottish highlands are also the perfect place to delve into some iconic stargazing. Their expert astronomer takes guests through the Cairngorms to pinpoint various planets, from Mars to the asteroid belt. The train makes stops at some of Scotland's most celebrated whisky distilleries. A selection of tours is available, including Glen Ord – one of the oldest in the country – and Tullibardine Distillery in Blackford village, where guests can experience a tour led by the master blender. Gain insight into the crafting of casks, and of course, indulge in a wee dram. Other excursions include teeing off for some golf, white water rafting, and private seal sightings via boat.
The train itineraries run from March through October. This luxury sleeper train welcomes guests of all ages. For daytime excursions and relaxing on board, feel free to come in your best smart casual outfit. Due to Scotland's climate, we also recommend packing a warm, waterproof jacket, as well as your favorite walking shoes. Belmond also encourages cocktail attire and traditional Scottish garb for formal dinners.
There is 24-hour steward service, and all meals and beverages are included.
Itineraries
There are nine itineraries on the Royal Scotsman ranging from two to seven nights: Taste of the Highlands is 3 days/2 nights; Western Scenic Wonders is 4 days/3 nights; Scotland's Classic Splendors is 5 days/4 nights; Scotch Malt Whisky Trail is 5 days/4 nights; Heritage Homes & Gardens Journey is 5 days/4 nights; Clans, Castles & Isles is6 days/5 nights; Grand Taste of the Highlands is6 days/5 nights; Grand Western Scenic Wonders is 8 days/7 nights, and Grand Tour of Great Britain is 8 days/7 nights.
Taste of the Highlands (2 nights)
Rothiemurchus Estate, Culloden Battlefield, Strathisla Distillery
A 540-mile round trip taking in a broad swathe of the Highlands and Scottish cities and North east coast of Scotland, visiting Dundee, Montrose, Aberdeen, Keith, Inverness, Dalwhinnie and Perth.
Day One: Departing Edinburgh in the early afternoon, journey north through the former Kingdom of Fife, then up into the dramatic scenery of the Highlands. In the evening a sumptuous dinner is served, followed by entertainment in the Observation Car.
Day Two: After breakfast, you travel by coach to Rothiemurchus Estate in the heart of the Cairngorms National Park. Rothiemurchus offers a magical setting in which to try a spot of clay-pigeon shooting or fishing or a tour of the estate. Rejoin the train for lunch and travel to Culloden Battlefield for a private tour of this atmospheric place (made more so if the mists are swirling around), complete with a fascinating visitor center. Enjoy an evening visit to Strathisla Distillery, one of the oldest working distilleries and home to one of Scotland's most famous whiskies. Back on board, the spectacular panoramas unfold on the way south through Aberdeenshire and Angus. A formal dinner is served on the way to Dundee.
Day Three: Enjoy a leisurely breakfast whilst leaving Stirling behind and returning to Edinburgh.
Accommodations
Step back in time to the grand era of luxury travel with modern luxuries in these exquisite cabins abroad the Royal Scotsman. The train comprises 15 Twin, three Double, and four Single State Cabins, including an interconnecting cabin. Each cabin has its own bathroom and shower.
Twin Cabin
Twin cabins are designed for space and relaxation. Lower beds, a long wardrobe, ceiling fans and controlled heating ensure absolute comfort––no matter how the weather is outside.
Double Cabin
Each marquetry-lined double beckons you in with Scottish charm. Plush beds, a drawing table, long wardrobe and window are a warm welcome after the day's outdoor pursuits.
Single Cabin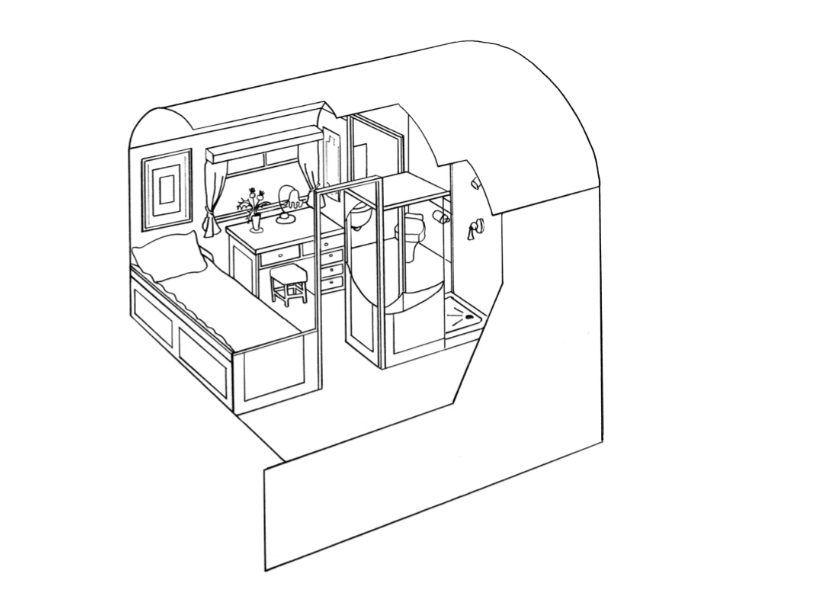 Enter your own private retreat lined with rich marquetry and tartan furnishings. Each features a lower bed, wardrobe, writing table and en suite. Splendid Highland views from your window are sure to inspire.
Interconnecting Cabin
Interconnecting Cabins are perfect for families travelling together. Recline on plush lower beds. one twin and one double, or revive in a fully equipped en suite. A writing desk and large open window fuel the imagination.
VIP Contact
For more information contact SmartFlyer at leisure@smartflyer.com.